Sept 1st 2000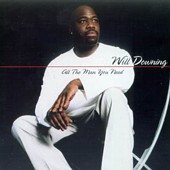 Will Downing - All the man you need: (Motown/UNI)
They say that Will has returned to his soulful roots with this his 5th album (and 1st for new label Motown) but 'All the Man you Need ' proved that he has always been soulful.

Will's voice is truly unique, you can recognize any song he sings right off the bat it's that distinctive and on this album he shines more than ever. First up 'It's on ' (intro) followed by 'Summer Day ' a slow winding laid back ballad that sets the tone for the rest of the album. Next is the duet with Chante Moore ' When you need me ' which is a beautiful sultry ballad that has all the elements, symbolic of yesteryear's classic love songs. ' Everytime it rains ',' Real soon ' ,' Thinking about you ' and 'Only a moment away ' follows suit with Will's charismatic voice lightening up every note.

' Tired Melody ' is a personal favourite with fond memories of Donny Hathaway or Marvin Gaye coming to mind with his ability to uplift you and inspire you at the same time with relative ease. Other notables include 'Grandma's Hands ' , ' Love of my life ' and the title track. Will Downing will be a name to reckon with this year because this disc is a clear cut winner from start to finish, not one bad song on this CD so don't just stand there go to nearest record shop and pick up a copy because it is definitely a Ty-D Pick.

TD.
Home About TYDmusic TYDmusicshop My Picks Reviews Playlists Hotlistlist Link-up F.A.Q's Archive Contact us My Family My Mates My Mates-2 Guestlog Testimonials My Gallery
TY-Dforum