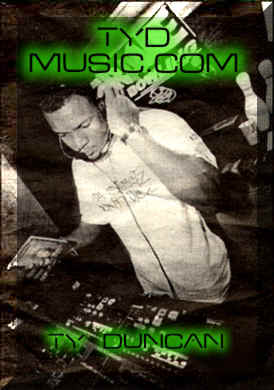 | | |
| --- | --- |
| | Quick Bio |
| | |
| | |
| Birth Place: | Paddington, London, England |
| Age: | 41 (as of 2001) |
| Occupation/Job: | Software Tech Support |
| Hobbies/Interests: | Music (of course), Movies, trying to keep fit |
| Football Team: | Arsenal (A loyal supporter since the age of 4) |
| Show times: | Tuesdays, Thursdays and Fridays 9-11am (est) |
If you are a true lover of the musical movement known as 'Rare groove', then you are at the right site for this site gives you the very best of the classic tracks of the 70's and 80's. TyD Music.com believes that it's necessary to remember this form of R+B music that pathed the way for popular music as it's known today. I took notice in the 70's when the thing that was in was 'Jazz funk' and 'Lovers Rock', both of which enjoyed tremendous popularity in their hayday but seem to have gotten lost in the shuffle of new technology. I fell in love with the style and rhythm of the gendre and started collecting 45's, LP's and 12 inches at the age of 14 and have been collecting ever since.
It's taken considerable time and effort from key personal to bring TY-D Music.com to this point and with that I would like to thank all those involved. It's with their hard work, heart, dedication and committment that has brought this dream of mine to reality
The purpose of this website is to rekindle the memory of the gendre of years past and bring back Rare Groove to the forefront of popular music where it belongs. Although I grew up within the era of it's time I feel everyone should and does have their own favourite moments and songs that make that moment. So often do we forget about the music that pathed the way for the artists of today. So sit back, relax and browse away. You can visit my Archives page to review my radio show's playlists, record reviews, hot hitlists and more as well as link-up to your favourite sites.
If you have any comments feel free to drop us a line via email I'd like to know what you think of the site.
Sincerely
Sir Ty Duncan
If you would like a copy of my newsletter Musicscene: Contact me
Home About TYDmusic TYDmusicshop My Picks Reviews Playlists Hotlistlist Link-up F.A.Q's Archive Contact us My Family My Mates My Mates-2 Guestlog Testimonials My Gallery TY-Dforum