May 1st 2002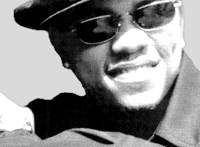 Donell Jones - Outta my head : (Laface)
Donell Jones is one of those rare artists who possesses a unique talent, the ability to get better and better with each project. What most probably didn't know is that Donell's work first caught national attention as a songwriter where he wrote tracks for Usher, 702, Brownstone and Silk all of which have been major hits. In 1996 Donell caught the attention of the world with his debut set 'My Heart ' that spanned such hits as 'In the Hood' ' , his renindition of the Stevie Wonder classic 'Knocks me off my feet ' and 'You should know '. 1999 saw him release 'Where I wanna be ' and found even bigger success with 'You know what's up ', 'Shorty (got her eye on me) ' and the title cut.

Opening his account for the new millennium is 'Outta my Head ' a dance floor pleaser that has a deadly bass line to provoke your head, definitely radio friendly and could very well be his biggest hit yet. Taken from the forthcoming CD 'Life goes on ' coming to a record store near you next month, Donnell's on point for another hit and if the single is any indication to what's in store for us on the album then definitely put this one on your shopping list. A worthy TY-D Pick hit.

Listen to '(Gotta get her) Outta my head'

TD.
Home About TYDmusic TYDmusicshop My Picks Reviews Playlists Hotlistlist Link-up F.A.Q's Archive Contact us My Family My Mates My Mates-2 Guestlog Testimonials My Gallery
TY-Dforum