Mar 15th 2001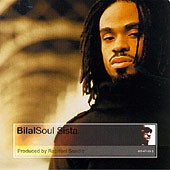 Bilal - Sometimes (Moyo Music/Interscope)
Philadelphia recently have given us some of the best soul talent in recent memory Will Smith, The Roots to most recently Jill Scott and Musiq SoulChild.

Philly's latest product is Bilal (born Bilal Oliver) and he has taken the world by the throat with debut single 'Soul Sista ' (featured on the 'Love and Basketball - SDTK'). Although he has been compared to D'Angelo with his baritone voice, Bilal served up a slice of true soul flavour heaven with 'Soul Sista ' and with that brought the spotlight on what the follow - up has to offer.

'Sometimes ' dare I say is not only good but better than 'Soul Sista ' (and that's saying something) and shows us what a talented find this man is. He flows through his lyrics like a free flowing waterfall into the sea and settles down in the debts of your emotions. Its only a glimpse of what's to come with the full length '1st born second ' due out on your record selves this coming March 27th - I highly recommend getting this set and not just the single track - T.D.
Home About TYDmusic TYDmusicshop My Picks Reviews Playlists Hotlistlist Link-up F.A.Q's Archive Contact us My Family My Mates My Mates-2 Guestlog Testimonials My Gallery
TY-Dforum